Stories of Hope & Healing
I will never forget her words: "Sandra, God can just have you wake up one day and it will be totally gone!"
Overcoming an Eating Disorder: Sandra's Story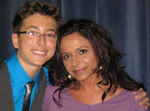 After growing up in an emotionally, and physically abusive home, all I ever wanted was to have a marriage that was different from my parents, and children that I could love unconditionally, and that would love me back - unconditionally.
After my first born, eight year old son passed away from cancer on November 13, 2002; my husband of eight years leaving me and my youngest son (on November 27, 2002) after nine years of living in a violent, abusive marriage and; then losing my job of eleven years on November 30, 2002; I felt that there was nothing else that could happen that could destroy me even more.
I met Deborah Mason and her family during my son's sickness and they brought comfort, prayer, and music to my home and my terminally ill child. Deborah ministered to me during the most difficult times of my life, and it was as if God so graciously picked her up with His right hand, and placed her in my life. The Lord knew I would need her and her family in my life. She continued to minister to my family, steadfast and true, and for the past two and a half years I have felt strength and encouragement through her continued prayers.
After years of continuous prayer and cry for help to God, Deborah was one of two special people in my life that I was led to, by God, to reveal something that I carried with me for twenty-six years of my life. I shared with her that I had an eating disorder that I knew would eventually take my life. My hurts were deep, real deep, and the disease was the only thing I could control; or so I thought! Years of feeling unworthy; the enemy had me believe I was not worth anything. I lost my childhood, my son, my marriage, my job; he wanted to destroy me totally.
I will never forget when I told Deborah about my disease - she immediately began to pray in the Spirit. I knew God could do anything, but my mind had been controlled for so long. She told me God had a better plan for my life; that He was going to powerfully use me, and my life, to help others. She told me that God can and will deliver me. I will never forget her words: "Sandra, God can just have you wake up one day and it will be totally gone!" Wow, how prophetic!
I had prayed for this for years, and when she told me about the conference, I knew God was calling me to be there for a purpose and I knew how the power of the Holy Spirit moved through Deborah's ministry. God's Spirit filled my heart with a renewed faith in believing for a miracle. I knew that God was going to mightily use Deborah and her family to minister to all the women present, and to me, and it was exactly so. The presence of the Holy Spirit drowned me throughout the entire weekend, and I just felt such a deep cleansing, and God's abundant "unconditional" love for me. It is even hard to explain!
Through Deborah, God spoke prophetic words of wisdom right to the core of my being, and my soul. Deborah told me that my mind was decreasing and God's mind was increasing; that I was getting smaller, and God was getting larger. God, the Deliverer, set me free of the disease I carried for twenty-six years. I am free, free, free!! I have been set free. Praise God!! God has healed me of the pain and hurts of my life and showed me that I am worthy of His unconditional love. He healed my deep, deep scars and I have been completely delivered of the disease.
As the weekend continued, the Holy Spirit allowed Deborah's words and teachings to speak more into my soul. At this conference, God showed me that He is my Father, my Husband and the Lover of my heart - He is my Healer - I will dance with Him and open my heart to the laughter He is putting back into my life. The grief and the tears will still come, and He holds every vial with every one of my tears, but with it; He is giving me the joy of a new life and the certainty of knowing that I will see my son again one day. And through all of my suffering, there is work to be done - for Him!
I came to this conference believing in a miracle . . . and in faith I received it, accepted it, and claimed it in the Mighty Name of Jesus! Thank you Deborah, Viola, Brittany, and Heidi – for all the love, support and prayers that you have offered to my family and I, and I look forward to what God is going to do in all our lives.
Sandra ~ Milton, Ontario